Noel McKenna
Noel McKenna was born in Brisbane in 1956. After studying architecture at the University of Queensland in 1974 and 1975, McKenna continued his education at the Brisbane College of Art between 1976 and 1978, and at the Alexander Mackie College, Sydney in 1981. As a prominent Australian artist, McKenna has an extensive exhibition history both nationally and internationally; with solo exhibitions in Brisbane, Melbourne, Sydney, Adelaide, Hobart, Korea, Hong Kong, Japan, Ireland and New Zealand. In 1994, McKenna was awarded the Sulman Prize, and has been awarded the Art Gallery of New South Wales Trustees Watercolour Prize five times since 1997. McKenna won the Melbourne Savage Club Prize for Painting in 2001, and the Mosman Prize in 2003. His work is featured in major institutional collections including: Queensland Art Gallery, Art Gallery of New South Wales; Art Gallery of South Australia; National Gallery of Australia; National Gallery of Victoria; University of Queensland Art Museum; in addition to private collections throughout Australia and overseas.
Noel McKenna's works always delight. He draws our attention to the most marginal of incidents or events that we know only he has noticed. In the case of Pespi's Gone we get the sense that the artist has picked up on the anguish and despair of a child who has just lost his or her best friend. Rather than a heading "Lost Dog" on the notice we see the cry of Pepsi's gone!
Pepsi's Gone is drawn from a series of works, which use as their subject matter, the ever-fascinating human narratives of lost and found notices.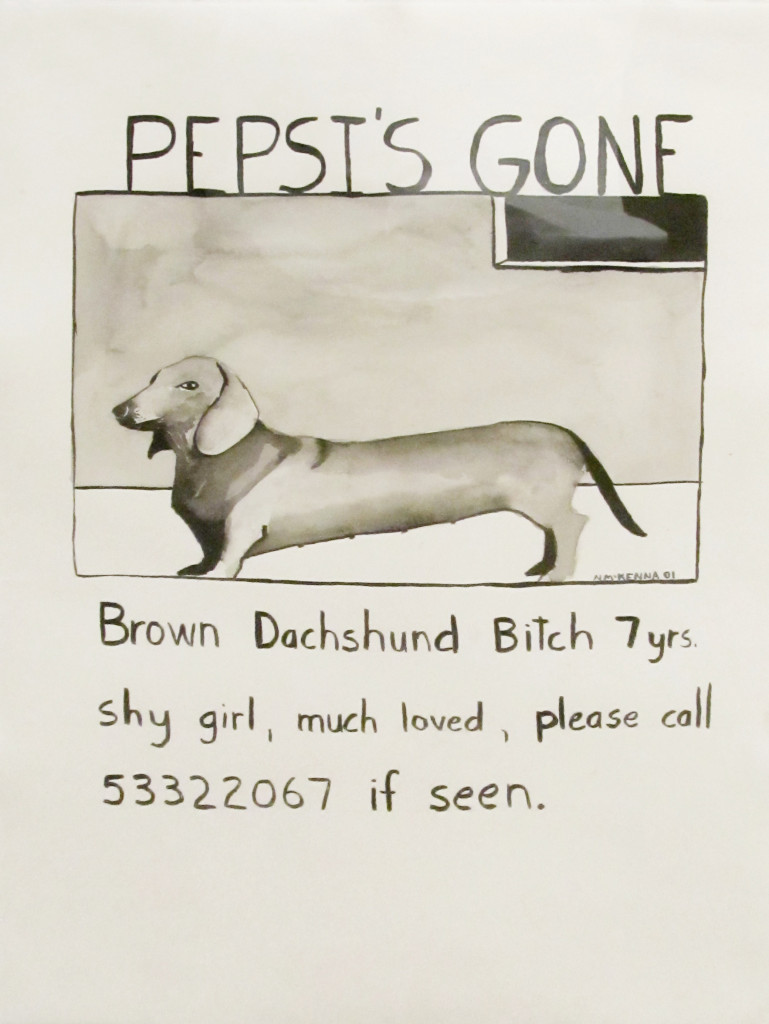 Pepsi's Gone
2001
Watercolour
57x37cm